Detention Watch Network (DWN) is a national coalition building power through collective advocacy, grassroots organizing, and strategic communications to abolish immigration detention in the United States.
Vision
Detention Watch Network imagines a world where every individual lives and moves freely and a society in which racial equity is the norm and immigration is not criminalized. The abolition of immigration detention is part and parcel of struggles against racism, xenophobia, discriminatory policing, and mass incarceration and our aims coincide with these broader struggles against racialized oppression.
Values
Detention Watch Network's values help guide our work both internally among DWN staff and members and externally with allies and partners:
We believe that everyone should be treated with dignity and respect. We strive for equity amongst our members and believe in creating healthy spaces for our work;
We prioritize collaboration and community decision-making;
We aim to be as strategic as possible and push our thinking and approach beyond what is believed to be achievable. We know that the struggle to end detention is a long one that will require both dedication and nimbleness;
We believe that our work is inherently connected to other movements for racial and economic justice and strive to be accountable to those movements and not undermine their efforts in our campaigns and tactics;
We are committed to continued and collective learning and encourage feedback to ensure our strategies and organizational practices are as effective and accountable as possible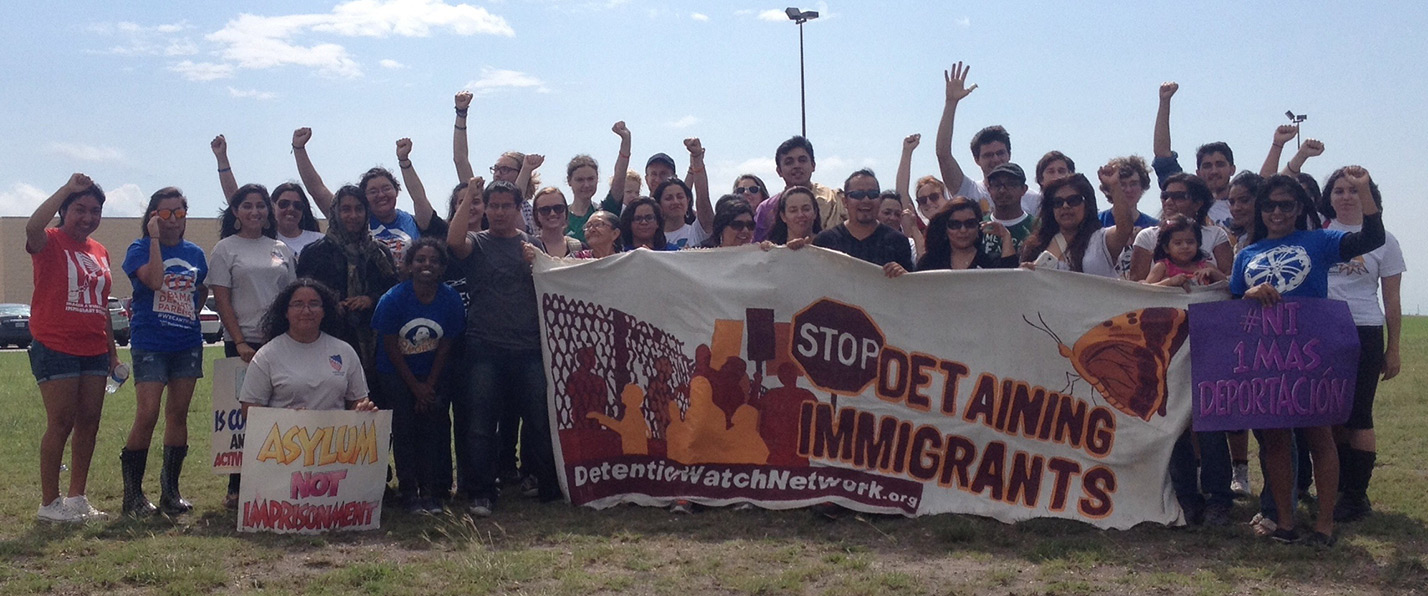 Core Purpose
Immigration detention is a key component of the United States' immigration enforcement apparatus. By focusing primarily on immigrant incarceration, Detention Watch Network aims to remove one of the drivers of mass deportations while also addressing the broader role of incarceration and criminalization in U.S. society. DWN's core purpose is to bring together complementary strategies for a multi-pronged approach to ending detention, including organizing, advocacy, litigation, direct service, research and communications. DWN provides a space for networking and information sharing as well as for sharing analysis and expertise on shifting government policies. Building the capacity of members through training and peer-exchange is an important aspect of DWN's work. The Network's theory of change posits that a paradigm shift from an emphasis on punishment and deportation to one that promotes dignity and freedom must take place in order for us to achieve our vision.
Our History
DWN was founded in 1997 by Catholic Legal Immigration Network, Inc., Florence Immigrant and Refugee Rights Project and Lutherans Immigration and Refugee Service to combat the explosive growth of the U.S. immigration detention system. In 2005, DWN re-launched as a dues-based membership network comprised of individuals and organizations working collectively on advocacy, public education and grassroots organizing efforts.
Today, DWN is the only national network that focuses exclusively on immigration detention, bringing together diverse constituencies to advance the civil and human rights of those impacted by the immigration detention system. The Network is recognized as the "go-to" resource on detention issues by media and policymakers, as well as, a critical national advocate for just policies that promote an end to immigration detention.
Detention Watch Network is a 501(c)(3) organization. Learn about DWN's 2020 audited financials, 2021 audited financials and our 2022 audited financials.
---
Reports