DWN's upcoming National Member Conference will be in Seattle,
June 23-25, 2022!
La próxima conferencia nacional de membresía será en Seattle,
Junio 23-25, 2022!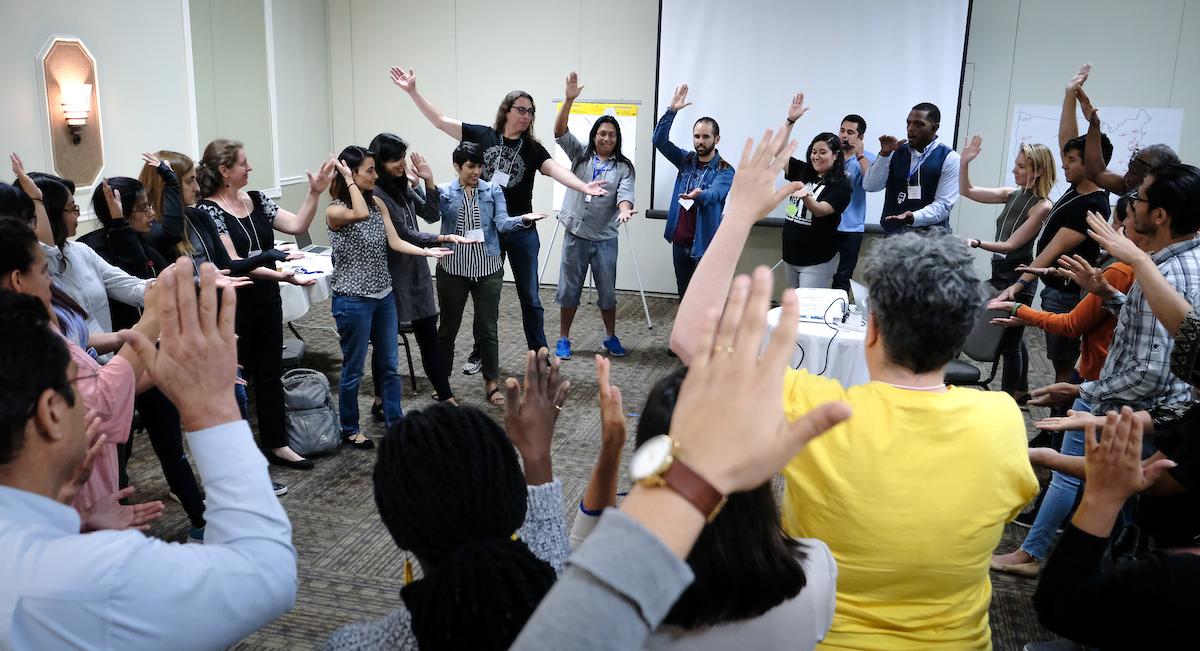 *español abajo*
In response to the COVID-19 pandemic we postponed our previously planned member conference in 2020. We look forward to seeing our members June 23-25, 2022!
Please note this conference will have limited capacity.
We are looking forward to bringing our membership together for the first time since the start of the pandemic, and doing so with participants' health and safety as a top priority. We believe that coming together to collectively learn, strategize, and deepen relationships is essential in building power to abolish immigration detention.
Therefore, we will need to make some difficult choices to ensure that we can be socially distanced and take other necessary precautions.
DWN's member conference will be smaller than we originally planned to accommodate these COVID safety guidelines. We want to ensure broad participation, including diverse participation – regionally and representative of the broad sectors of our membership.
And unfortunately, given our limited capacity, it is possible that we may not have enough space for everyone who is interested in attending. We appreciate your understanding and flexibility as we navigate these challenging and unprecedented times!
***We will also be regularly monitoring the trends of COVID, different variants, and caseloads both nationally and specifically in and around Seattle, including regular checkpoints to determine if we must change plans.
Upcoming conference details will be shared on our member listserv.
For additional questions please contact conference@detentionwatchnetwork.org.
We all look forward to seeing us come together soon!
-----
En respuesta a la pandemia de COVID-19, pospusimos nuestra previamente planeada conferencia en 2020. ¡Esperamos ver a la membresía el 23 al 25 de junio del 2022!
Tenga en cuenta que esta conferencia tendrá capacidad limitada.
Esperamos reunir a nuestra membresía por primera vez desde el comienzo de la pandemia, y poder hacerlo con la salud y la seguridad de les participantes como nuestra máxima prioridad. Creemos que el reunirse para aprender colectivamente, diseñar estrategias y profundizar las relaciones es esencial para construir poder para abolir la detención de inmigrantes.
Por lo tanto, tendremos que tomar algunas decisiones difíciles para asegurarnos de mantener el distanciamiento social y tomar otras precauciones necesarias.
La conferencia de DWN será más pequeña de lo que originalmente planeamos para acomodar estas pautas de seguridad de COVID. Queremos asegurar una amplia participación, incluida una participación diversa, a nivel regional y representativa de los amplios sectores de nuestra membresía.
Y, lamentablemente, dado que tenemos muchos más miembros que lugares abiertos para la conferencia, es probable que no se acepten todos los miembros interesados. ¡Gracias por su comprensión y flexibilidad mientras navegamos por estos tiempos desafiantes y sin precedentes!
***También estaremos monitoreando regularmente las tendencias de COVID, las diferentes variantes y los casos tanto a nivel nacional como específicamente en Seattle y sus alrededores, incluidos los puntos de control regulares para determinar si debemos cambiar de planes.
Detalles de la próxima conferencia se compartirán en nuestra lista de membresía electrónica.
Para preguntas adicionales, comuníquese con conference@detentionwatchnetwork.org.
¡Esperamos vernos pronto!
---
Donate Now!
We are committed to making the conference affordable and inclusive for all our members, and you can help! Your contribution is deeply appreciated.
Thank you!