DWN's upcoming National Member Conference will be in Seattle,
June 23-25, 2022!
La próxima conferencia nacional de membresía será en Seattle,
Junio 23-25, 2022!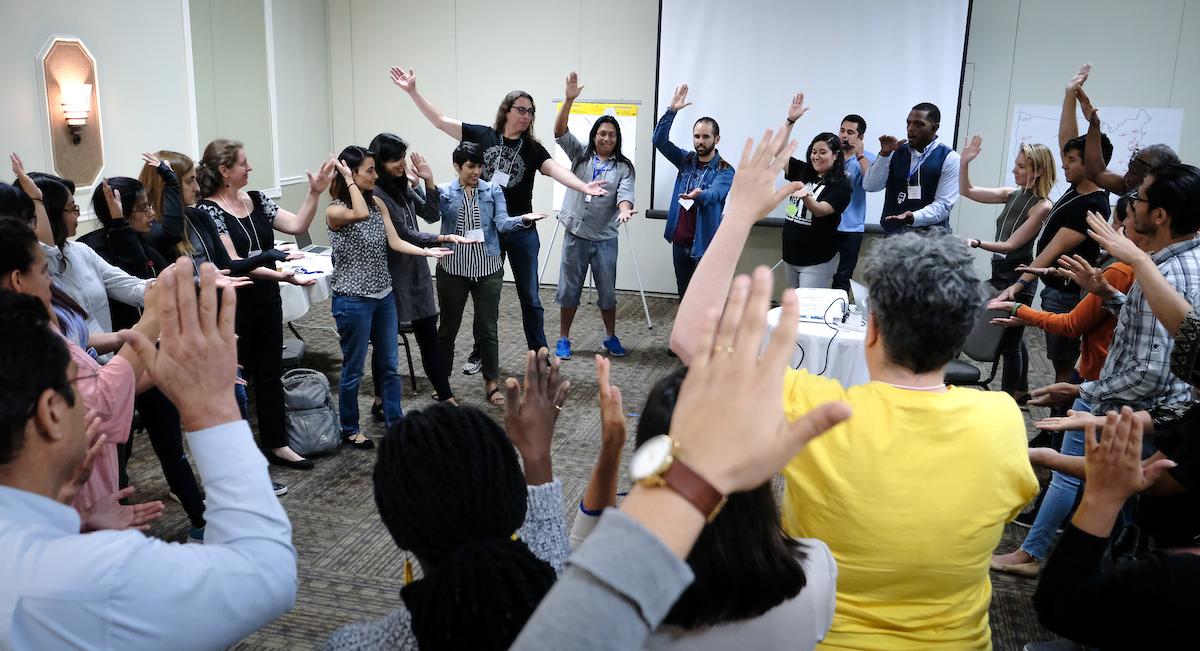 *español abajo*
In response to the COVID-19 pandemic we postponed our previously planned member conference in 2020. We look forward to seeing our members June 23-25, 2022!
Please note this conference will have limited capacity.
We are looking forward to bringing our membership together for the first time since the start of the pandemic, and doing so with participants' health and safety as a top priority. We believe that coming together to collectively learn, strategize, and deepen relationships is essential in building power to abolish immigration detention.
Therefore, we will need to make some difficult choices to ensure that we can be socially distanced and take other necessary precautions.
DWN's member conference will be smaller than we originally planned to accommodate these COVID safety guidelines. We want to ensure broad participation, including diverse participation – regionally and representative of the broad sectors of our membership.
And unfortunately, given our limited capacity, it is possible that we may not have enough space for everyone who is interested in attending. We appreciate your understanding and flexibility as we navigate these challenging and unprecedented times!
***We will also be regularly monitoring the trends of COVID, different variants, and caseloads both nationally and specifically in and around Seattle, including regular check in dates to determine if we must change plans.
Upcoming conference details will be shared on our member listserv.
For additional questions please contact conference@detentionwatchnetwork.org.
We all look forward to seeing us come together soon!
-----
En respuesta a la pandemia de COVID-19, pospusimos nuestra previamente planeada conferencia en 2020. ¡Esperamos ver a la membresía el 23 al 25 de junio del 2022!
Tenga en cuenta que esta conferencia tendrá capacidad limitada.
Esperamos reunir a nuestra membresía por primera vez desde el comienzo de la pandemia, y poder hacerlo con la salud y la seguridad de les participantes como nuestra máxima prioridad. Creemos que el reunirse para aprender colectivamente, diseñar estrategias y profundizar las relaciones es esencial para construir poder para abolir la detención de inmigrantes.
Por lo tanto, tendremos que tomar algunas decisiones difíciles para asegurarnos de mantener el distanciamiento social y tomar otras precauciones necesarias.
La conferencia de DWN será más pequeña de lo que originalmente planeamos para acomodar estas pautas de seguridad de COVID. Queremos asegurar una amplia participación, incluida una participación diversa, a nivel regional y representativa de los amplios sectores de nuestra membresía.
Y, lamentablemente, dado que tenemos muchos más miembros que lugares abiertos para la conferencia, es probable que no se acepten todos los miembros interesados. ¡Gracias por su comprensión y flexibilidad mientras navegamos por estos tiempos desafiantes y sin precedentes!
***También estaremos monitoreando regularmente las tendencias de COVID, las diferentes variantes y los casos tanto a nivel nacional como específicamente en Seattle y sus alrededores, incluidos los puntos de control regulares para determinar si debemos cambiar de planes.
Detalles de la próxima conferencia se compartirán en nuestra lista de membresía electrónica.
Para preguntas adicionales, comuníquese con conference@detentionwatchnetwork.org.
¡Esperamos vernos pronto!
---
Conference FAQs
Preguntas frecuentes sobre la Conferencia de la Membresía de DWN
*español abajo*
When and where is the conference?
DWN's National Member Conference, originally planned for May 2020, will be held June 23 – June 25 in Seattle, Washington.  Conference registration will open to DWN's full membership on March 28th and will close on May 20th (or earlier if all spots get filled).
Who can attend the conference?
Due to COVID precautions (more details below), this conference will have limited capacity. DWN wants to ensure broad participation, including regional diversity and representing the broad sectors of our membership. Given the limited capacity, it is possible that we may not have space for all interested members.
Registration will remain open until all spots fill up, and we are asking for no more than two representatives per organization attend. If you would like to send more than two people, please email conference@detentionwatchnetwork.org; we will review requests on a case-by-case basis. We appreciate your understanding and flexibility as we navigate these challenging and unprecedented times!
Is DWN offering scholarships?
Yes, we will have 30 scholarships available for directly impacted members and members with limited resources. Scholarships will take the form of travel and lodging support. If selected for a scholarship, DWN staff will arrange your travel and lodging.
Please note that priority will go towards directly impacted individuals/families. If an organizational member, preference will be towards organizations with limited or no budgets.
Scholarship applications will be reviewed on a rolling basis, and you can expect to hear within two weeks if you have been approved for a scholarship. Submit your scholarship application here. [coming soon] We understand if you wait to register until you find out if you've been offered a scholarship.
Lodging
DWN has reserved a block of hotel rooms for the nights of Wednesday 6/22, Thursday, 6/23, and Friday 6/25 at the Motif at a rate of $269/night. You are free to make your own lodging arrangements if you would prefer an Airbnb, have people to stay with, etc. You will be responsible for local transportation to and from the conference venue at the Motif.
If you want to book a room in DWN's room block at the Motif, please note that in your registration form. DWN will add you to the room block and you will be asked to provide a form of payment upon check-in, and will be charged for the room fees and any incidentals incurred.
We are encouraging that all members book individual rooms for social distancing purposes. Of course, we understand that may not be the case, for example if participants are traveling with members of the same household or family, or choose to share lodging with trusted colleagues to cut costs.
Will you be offering childcare?
Yes! DWN will have childcare providers onsite during the conference, so participants are encouraged to bring their children. Please just note in the registration if you will be traveling with your child(ren), and what age(s) they are.
Will you be offering interpretation?
Yes. DWN will offer simultaneous interpretation in English/Spanish and will have a team of interpreters and interpretation equipment onsite.
What about COVID?
DWN is committed to bringing our membership together so we can collectively strategize and deepen relationships. However, we reserve the right to postpone or switch to a virtual conference if the COVID pandemic worsens or conditions change between now and June. 
We know that we must live with this virus, which does not mean pretending it does not exist, but rather making choices to most effectively manage risk with the data available. We will prioritize community care during the conference, and will ask all participants to adhere to our COVID protocols. These protocols include:
During registration check-in, all attendees must show their vaccination proof or a negative PCR test (results received within 48 hours) in order to be admitted to the conference.
All participants will undergo rapid testing
All participants are expected to wear N95 or KN95 masks at all time when indoors (other than while eating or drinking)
DWN will provide extra masks, hand sanitizer, and disinfecting wipes, and clean surfaces such as microphones.
Transparent communication: will notify all participants if anyone becomes infected or is suspected of infection
DWN will cover additional lodging for staff and scholarship recipients if anyone gets COVID. Additional lodging will be provided in order to quarantine until a negative test is received. All other conference participants will be expected to arrange their own lodging and change of travel arrangements. We may make exceptions on a case-by-case basis, for example with invited speakers.
What happens if I contract COVID ahead of the conference?
We want to prioritize the health and well-being of all conference participants. If you learn that you have been exposed to COVID, are feeling sick, or have a positive COVID test result, we respectfully ask that you do not attend the conference. As long as you inform DWN staff before the start of the conference, we will refund your conference registration in full. If you are already in Seattle when you learn that you have been exposed, we may or may not be able to accommodate a full refund. You will be responsible for changing or canceling your travel and lodging. **If you are a scholarship recipient, DWN staff will cancel your flight and lodging.
-----
¿Cuándo y dónde es la conferencia?
La Conferencia Nacional de la Membresía de DWN, originalmente planeada para mayo de 2020, se llevará a cabo del 23 al 25 de junio en Seattle, Washington. El registro de la conferencia se abrirá el 28 de marzo y se cerrará el 20 de mayo (o antes si se llenan todos los lugares).
¿Quién puede asistir a la conferencia?
Debido a las precauciones de COVID (más detalles a continuación), esta conferencia tendrá capacidad limitada. DWN quiere garantizar una amplia participación, incluida la diversidad regional y la representación de amplios sectores de nuestra membresía. Dada la capacidad limitada, es posible que no tengamos espacio para cada miembre interesade.
La registración permanecerá abierta hasta que se llenen todos los lugares y solicitamos que no asistan más de dos representantes por organización. Si desea enviar a más de dos personas, envíe un correo electrónico a conference@detentionwatchnetwork.org; revisaremos las solicitudes caso por caso. ¡Agradecemos su comprensión y flexibilidad mientras navegamos por estos tiempos desafiantes y sin precedentes!
¿DWN ofrece becas?
Sí, tendremos 30 becas disponibles para miembres que han sido directamente impactades y miembres con recursos limitados. Las becas tomarán la forma de apoyo para viajes y alojamiento. Si es seleccionado para una beca, el personal de DWN organizará su viaje y alojamiento.
Tenga en cuenta que la prioridad se destinará a las personas/familias directamente afectadas. Si es miembre de una organización, la preferencia será hacia organizaciones con presupuesto limitado o sin presupuesto.
Las solicitudes de becas se revisarán de forma continua y puede esperar una respuesta dentro de dos semanas si ha sido aprobado para una beca. Envíe su solicitud de beca aquí. Entendemos que espere para registrarse hasta que sepa si le han ofrecido una beca.
Alojamiento
DWN ha reservado un bloque de habitaciones de hotel para las noches del miércoles 22 de junio, jueves 23 de junio, y viernes 25 de junio en el Motif a una tarifa de $269/noche. Usted es libre de hacer sus propios arreglos de alojamiento si prefiere un Airbnb, si tiene personas con quienes quedarse, etc. Será responsable del transporte local hacia y desde el lugar de la conferencia en el Motif.
Si desea reservar una habitación en el bloque de habitaciones de DWN en el Motif, indíquelo en su formulario de registro. DWN lo agregará al bloque de habitaciones y se le pedirá que proporcione una forma de pago al momento de registrarse en el hotel, y se le cobrarán las tarifas de la habitación y los gastos imprevistos incurridos.
¿Ofrecerán cuidado infantil?
¡Sí! DWN tendrá proveedores de cuidado infantil durante la conferencia, por lo que se anima a participantes a traer a sus hijes. Solo indique en el registro si viajará con su(s) hije(s) y qué edad(es) tienen.
¿Ofrecerán interpretación?
Si. DWN ofrecerá interpretación simultánea en inglés/español y contará con un equipo de intérpretes y equipo de interpretación en el sitio.
¿Qué pasa con el COVID?
DWN esa comprometido a reunir a la membresía para que podamos elaborar estrategias colectivamente y profundizar las relaciones. Sin embargo, nos reservamos el derecho de posponer o cambiar a una conferencia virtual si la pandemia de COVID empeora o las condiciones cambian entre ahora y junio.
Sabemos que debemos vivir con este virus, lo que no significa pretender que no existe, sino tomar decisiones para administrar el riesgo de manera más efectiva con los datos disponibles. Daremos prioridad a la atención comunitaria durante la conferencia y pediremos a todes les participantes que se adhieran a nuestros protocolos del COVID. Estos protocolos incluyen:
Durante el proceso de registro en persona, todes les asistentes deben mostrar su comprobante de vacunación o una prueba de PCR negativa (resultados recibidos dentro de las 48 horas) para ser admitidos a la conferencia.
Todes les participantes se someterán a pruebas rápidas
Se espera que todes les participantes usen máscaras N95 o KN95 en todo momento cuando estén en interiores (excepto mientras comen o beben)
DWN proporcionará máscaras adicionales, desinfectante para manos y toallitas desinfectantes, y limpiara superficies como micrófonos.
Comunicación transparente: notificaremos a todes les participantes si alguien se infecta o se sospecha que está infectado
DWN cubrirá alojamiento adicional para el personal y personas que recibieron una beca si alguien se contagia de COVID. Se proporcionará alojamiento adicional para permanecer en cuarentena hasta que se reciba una prueba negativa. Se espera que todes les demás participantes de la conferencia organicen su propio alojamiento y cambien los arreglos de viaje. Podemos hacer excepciones caso por caso, por ejemplo, con oradores invitades.
¿Qué sucede si contraigo COVID antes de la conferencia?
Queremos priorizar la salud y el bienestar de todes les participantes de la conferencia. Si se entera de que ha estado expuesto a COVID, se siente con enfermedad o tiene un resultado positivo en la prueba de COVID, le pedimos respetuosamente que no asista a la conferencia. Siempre que informe al personal de DWN antes del inicio de la conferencia, le reembolsaremos la totalidad de su registración a la conferencia. Si ya se encuentra en Seattle cuando se entera de que ha estado expuesto, es posible que no podamos realizar un reembolso completo. Usted será responsable de cambiar o cancelar su viaje y alojamiento. **Si recibe beca, el personal de DWN cancelará su vuelo y alojamiento.
---
Donate Now!
We are committed to making the conference affordable and inclusive for all our members, and you can help! Your contribution is deeply appreciated.
Thank you!